HOW TO CHECK 2019 NABTEB RESULT IS OUT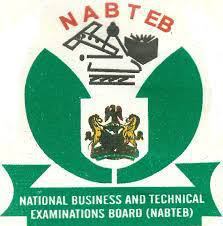 National Business and Technical Examinations Board (NABTEB) Result for May/June Examination 2019 Is Out!
.
This is to inform all the candidates that participated in the National Business and Technical Examinations Board (NABTEB) 2019 May/June National Business Certificates (NBC) and the National Technical Certificate (NTC) examinations that their results have been released.
.
NABTEB May/June examination results have been successfully uploaded online.
.
Participants should follow the steps outlined below to access their results.
.
How to Check NABTEB Results.
.
1. Go to http://eworld.nabtebnigeria.org/
.
2. Enter your Candidate Identification Number e.g. 38001178
.
3. Select the Type of Examination
.
4. Enter the 4 digits of your Examination Year e.g. 2019
.
5. Enter the Card Serial Number found on the reverse side of your Scratch card. The Card Serial Number has an alphabet prefix followed by digits e.g. N123456789
.
6. Enter the 12-digit Personal Identification Number (PIN) on your Scratch card eg. 012345678912
.
7. Click Submit and wait for the results window to come up
How to get Your NABTEB 2019 May/June Result by Email.
.
1. Follow steps 1-5 above.
.
2. Click on the 'Send Results to E-mail' box
.
3. Enter a valid e-mail address e.g.
segun@yahoo.com
.
4. Click Submit and wait for the results window to come up
Check NABTEB Result Via SMS.
• Send SMS in the format below:
• NABTEB*ExamNo*PIN*ExamType*ExamYear To short-code 32327
• For example:To check for May/June results,
NABTEB*01001001*123456789012*MJ*2012
You Must Not:
1. Do not use a card that has already been used for another candidate
.
2. Do not enter an invalid e-mail address for result to be sent as this will penalize you by deducting your card use
Categories: nabteb 2019/2020 exam runs
0 Responses